Many prototype modelers have a Missouri attitude, e.g., they might know something to be true, but until they are shown proof, they still harbor some doubts. I knew logically that the Georgia Railroad's USRA rebuilds, even those with the Murphy radial roof, were painted in the silver and black (Oakland Raiders?) scheme, but all the photos I had of the silver and black scheme were of the flat welded roof versions. All of the Murphy radial roof rebuild shots I had were in the freight car red scheme. Until now…..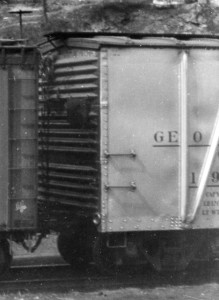 The subject of the photo is actually the C&S reefer to the left, but my wandering eye is always looking at all the cars in a photo.
In honor of this find of Georgia 19708, there is a sale on the first 10 of these sold at a price of $40.00 (regular price – $45.00). If you were one of the doubters who was holding off from buying the kit because you wanted to model the "Raiders" scheme, time to put up! Link here for K127 – Georgia rebuilt USRA single sheathed box cars
Finally, here is a bit of an update or an update and a reply to some musings. The reprint of the relaunch decals was a bit of a mess. However, they should be in my hands within a couple weeks. I apologize for the delay as I expected to have them a long time ago. Now for the reply to musings. Many of you have noticed that I am selling a lot of images on eBay. The rumor mill got cranked up, assuming I was selling everything and leaving town under cover of darkness, never to be heard from again. The real story is as follows. My girlfriend (partner, I guess, since it is 2015) live together. Her admonition since I moved in has been that she wants the house to be move ready at all times. Model railroaders, particularly those who have large collections of kits and photos, drawings, research material, books, etc., find such proclamations to be difficult to follow. Well, a situation with her daughter has made that move ready state closer to a reality that will be acted upon. That has meant that I have been furiously doing what I should have done long ago, which is to better organize my files. Within the last year, I discovered an incredible tool for digitally managing my large collection of railroad materials. So, as I make myself move ready (I do not want to cart around any more reference material than I have to), I have been scanning and digitally archiving my materials, with the ability to retrieve anything within a matter of seconds. To provide an answer, no, I am not getting out of this business again. I am becoming more efficient. For those curious souls out there, I will be giving a clinic at Naperville (or Lisle… what are we calling it?) this year about how you can digitally archive your materials and will do a thorough writeup about this in a coming PRM.