The other day on my blog , I made mention of a couple of decal sets coming for the PRR F29 & F33 and SP F-70-6 & -7 flat cars that relate to ongoing projects I have posted about there.
There are also two other decals sets that will be released at the same time, as soon as they arrive from the printer. They are:

D155 – Soo Line 75800-series '1937 AAR' auto box cars that will be offered separately or paired with P101 doors and Klasing hand brakes. These decals feature the excellent artwork of Ken Soroos.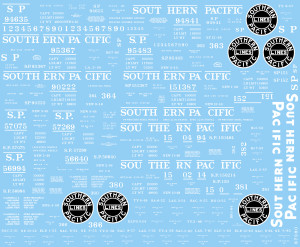 D156 – Southern Pacific GS gondolas, including G-50-15, -16, -18, -20, -22, and -23. There will be a 'scorecard' included in the instructions to make sense of all the lettering on the set as it is very comprehensive and will letter six cars and also includes all new jumbles of reweigh and repack locations and dates. There will be a follow-on set for wood chip and beet cars.
These sets plus the two referenced above will be available by the beginning of April.