Product Description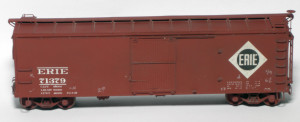 Between 1933 and 1936, the Erie Railroad rebuilt approximately 2,300 existing box and auto cars into steel box cars by welding plate steel directly to the existing structural members on the sides of the cars and riveting sheet steel to the structural members on the ends of the cars.  Two groups of cars were essentially identical: the 70000-70999 series rebuilt from box cars (orig. built in 1923-1924) and the 71000-71567 series rebuilt from auto cars (also orig. built in 1923-1924.)  These are the subject of this kit.
The cars were used on the Erie until the early 1950s when they were sold and scrapped.  Some were acquired by West India Fruit and Steamship, the Chicago & Illinois Midland, and Akron, Canton & Youngstown.
These kits include one-piece cast resin bodies, resin, styrene, and wire/metal details plus accurate decals, including four different Erie emblems.  Trucks and couplers not included.