Product Description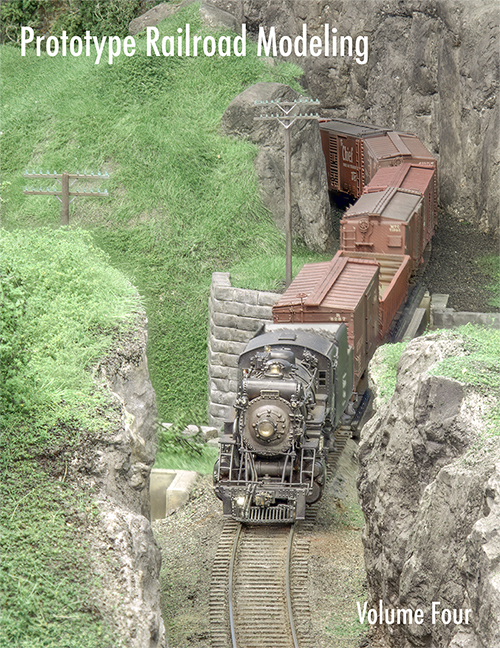 If there is a theme or thread to this volume it is kitbashing, although there is lots of prototype information and an abundance of modeling-related material. There are many new techniques presented to help overcome challenges in accurately replicating prototypes.
Pacific Fruit Express R-40-14 – While the immediate postwar PFE fleet was dominated by the R-40-10 (4,700 cars) and the R-40-23 (5,000 cars) there were other designs that can be mixed into a representative PFE fleet. One such prototype is the 1,000-car class R-40-14, built in 1941 by Pacific Car & Foundry. Learn how to kitbash HO scale models of this prototype using the old school Athearn reefer or the newer Intermountain model. Both yield attractive and interesting results.
New York Central System 50' AAR Box Cars, 1939-1946 – this article profiles the 2,700 prototypes and provides a comprehensive look at kitbashing models of cars from Lots 693-B (end door box cars) and 742-B (postwar cars). This in-depth look at these models highlights how to create these cars, but also presents many, many, many compelling detailing techniques applicable to a host of subjects beyond these NYC models (more details than you might care to see!)
Baltimore & Ohio M-15K Rebuilt Wagon-top Box Cars – George Toman presents his kitbash of the B&O's M-15K class of rebuilt box cars based upon the gift for attendees of the 2016 Chicagoland RPM Conference in Lisle, Illinois. George added many additional details that are applicable for this project, but are all useful for just about any superdetailing effort.
AAR 50-Ton Flat Cars – The 50-Ton AAR flat car was one of the most numerous (as a percentage of the car type) and widely adopted standard designs in history. Profiled in this examination are the prototypes, through photos, including many previously unpublished detail photos, and HO scale modeling options from the ubiquitous Life-Like Proto 2000 cars to the less well-known, but infinitely more enjoyable to build WestRail (the company founded and operated by Richard and Sandra Hendrickson) and Pittsburgh Scale Models (Byron Rose's operation) offerings. Models using all three kits are presented
High Green – In this volume, a recurring segment called, "High Green" is being introduced. The concept is to present a profile of a model that has been hiding in our collective plain sight for years and to highlight it in a short, but thorough manner, including detail upgrades. The first subject is the HO scale Tichy flat car kit and the NC&StL prototypes that are a perfect match.
Jim Dufour's Cheshire Branch of the Boston & Maine – A group of images of Jim Dufour's stunning Cheshire Branch are presented, along with notations by Jim about the layout. If you are not familiar with Jim's layout, it is among the most beautifully constructed layouts in operation. Jim's impeccable scenery and faithful replication of the structures and details of the branch create a virtual time machine.
Gallery – a gallery of a small number of prototype images with notations about interesting details
96 pages; full color (except where original is black & white/grayscale). $42.00 if ordered through December 4, 2017. $46.00 thereafter. Digital copies available for immediate download and print copies will be mailed the latter half of the week of December 11, 2017. This is a slightly longer lead time than usual, but it is to allow ample time for pre-ordering.