Product Description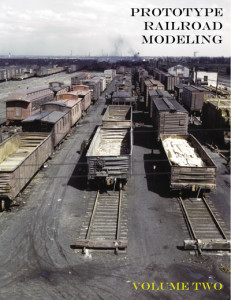 Volume Two presents three in-depth articles, all the first parts of two-part articles, as well as a drawing. The format is the same as Volume One. It is 96 pages, perfect bound with laminated, lay flat cover. The text is printed on heavy glossy stock with color where appropriate. The articles:
Modern Double Sheathed and Single Sheathed Box Cars of the Ann Arbor Railroad  – Rob Adams
An in-depth look at the Ann Arbor's Steam Era box car fleet from the turn of the century through into the 1940s. This sets the stage for a follow up article on scratchbuilding the Ann Arbor's single sheathed box and automobile cars. Two drawings, six reference tables, and many rare photos included.
Truss Rod Refrigerator Cars of the Fruit Growers Express/Western Fruit Express/Burlington Refrigerator Express Consortium, Part One: The Prototypes – Bill Welch
Presents a detailed look at the consortium's fleet of truss rod refrigerator cars. Like the Ann Arbor article, this lays the foundation for Part Two that will explore modeling these cars. This includes many photos that have not been published before.
AAR Inspired Forty Foot Steel Automobile Cars, Part One – Ted Culotta
The AAR box car of 1937 and its subsequent derivatives spawned many auto cars that drew upon the traits of the box cars. Part One of this article examines many of the prototypes and ways to model them in HO Scale.
Canadian National Railway Deck Pile Bridge, Saint John, New Brunswick – Patrick Lawson
Drawings are presented for a CN deck pile bridge that is perfect for modeling
$30.00
96 pages
8.5″ x 11″, soft cover
Publication date: October 27, 2006